MAKE A DONATION
How we use your donations

Los Ojos de Dios is tax-exempt under section 501(c)(3) of the Internal Revenue Code and 100% of your donation will go directly into our operating fund...



DONATIONS
How we use your donations
ADOPTIONS
Creating Families
CONTACT
info@ojosdedios.org
Ciudad Juárez, Chih. Mex.
Los Ojos de Dios A.C.
Miguel de la Madrid #8768
Parque Industrial Aerojuárez
Cd. Juárez, Chih. Mexico, 32696
Tel/Fax: (656) 288-0759 & 288-0760
El Paso, Texas, USA.
Los Ojos de Dios A.C.
500 Thunderbird Ste. 87
El Paso, TX. 79912
Ph. (915) 539-8894

About us
Our mission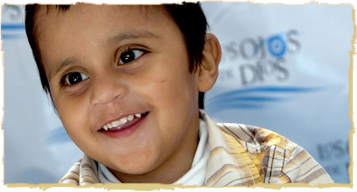 This is our mission of life in "Los Ojos de Dios", Inc. A private not-for-profit in Mexico and the USA dedicated to serving children and providing them with the love and care they were deprived of when someone threw them away because of their birth defects. Children found everyday in the streets, churches, hallways and doorsteps all throughout the state of Chihuahua, Mexico.

This comprehensive rehabilitation center is the only safe haven for them in the state. Here, they find love and sense of belonging in a family like home setting. Our bio-technology sustainable methods of constructing were developed by professionals in the field of alternative architecture and power generation of the Autonomous University of Ciudad Juarez, making this an ecological model in Latin America. We create awareness in our present generation and promote its active participation in the conservation of our environment.
VISION
Create and promote social welfare rooted in realistic long-term comprehensive sustainability both from a funding perspective as well as from an environmental point of view with a clear understanding of the vital role that must be played by individuals, civic and government organizations tasked with addressing the dearth of reliable care for specially challenged orphans and our natural resources.
MISION
To rescue and redirect the lives of physically-and neurologically-challenged orphans by providing them with reliable, consistent love and comprehensive care in a home-like environment, based on three key principles: Social Integration and Investment, Environmental Respect and Community Participation.
PHILOSOPHY
Chief among our founding tenets is the idea that each and every initiative we undertake must be rooted in realistic long-term sustainability.

Los Ojos de Dios sought to lay its foundation on what represents an opportunity to partner with existing community initiatives in order to maintain its viability as well as to effectively tap resources already in play at the community level.

We hope that the example and impact of lives transformed here will inspire other such partnerships across the continent and around the world.

About us


PATRICIA SILIS
Patricia was born and raised in Mexico City. She completed her education in Brooklyn, N.Y. Established her residence in Cd. Juárez, Chih. and El Paso, TX. Her experience and achievements establish a strong background in her professional field as well, which speaks highly of her capacity as a leader. For eleven years she worked for the transnational company Procter & Gamble as Production Scheduling Manager and Recruiting & Hiring Manager. Also, her ability to communicate both in English and Spanish has contributed to her success as simultaneous interpreter and translator in international conventions. Nominated "Woman of the Year" by the Association of Professional and Business Women in Cd. Juárez, Chih. Appointed "Woman of the Year" by FCCI. Nominated by the Sophie's Foundation in Oslo, Noruega for the project Los Ojos de Dios, "Pioneering Sustainable Initiatives." Awarded El Paso's Hometown Hero" by Prudential and Entravision/Univision Communications Corporation".

Since her path and Gerardo's crossed, they both have shared interest in making a difference in the lives of orphans and the less privileged children. By uniting this conviction and profound insights into life, they have since developed a strong bond that has led to the foundation of "Los Ojos de Dios", her life-long dream that has now become a reality.

Patricia:"I am convinced that fondness and support, but most of all the LOVE a person receives during his early childhood is the only key to sound development, which will set forth high standards of life and self-esteem. It will mark the individual forever."
GERARDO RIVERA
Gerardo, borne in San Juan de Puerto Rico. He grew up along his brother and two sisters in a remarkable setting of high family moral values. He carried out his studies in Philosophy, History and Humanities in Mexico, Spain, Peru and his homeland. He has contributed to the development of documents for the Protection of Children's Rights Against Domestic Violence, which have been credited internationally. Founder of associations in Mexico as well as in the United States. He now concentrates all his professional skills as a leader and experience as administrator to rescue the lives of abandoned children of Cd. Juarez, Chih. Mexico.

Gerardo and Patricia, found "Los Ojos de Dios", a breakthrough project in the area, incorporated in both sides of the border, which has consolidated after long years of careful planning. Now they work hard, hand in glove, so that children with disability may have the opportunity of a loving haven and ultimately, the chance to a better life.